The men and women of the Maple Shade Police Benevolent Association Local #267 staffed the popular Dunk-A-Cop fundraiser at National Night Out 2018 on 8/7/2018. A total of $450 in donations were collected from Maple Shaders young and old who were eager to take their turn to dunk-a-cop for a good time and a good cause.
The Maple Shade Moose Lodge #2682 has partnered in the good cause, and matched the PBA's donation for a total donation of $900 presented to the Maple Shade Food Bank.
The Maple Shade Food Bank is run by Maple Shaders helping Maple Shaders, please help support them all year long.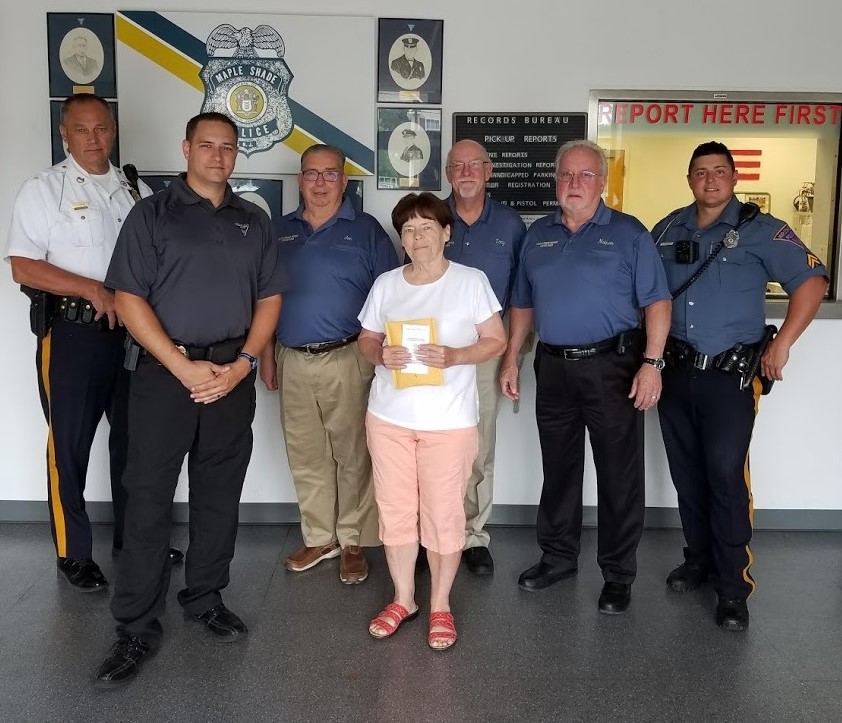 Left to right – Chief Gary Gubbei, Det. Brian Martino – VP PBA Local 267,  Joe Scalise – Governor Moose Lodge 2682, Teri Zahradnick – Maple Shade Food Bank, Tony Egner – Treasurer Maple Shade Moose Lodge 2682, Nelson Wiest – Administrator Maple Shade Moose Lodge 2682, Cpl. Scott Pacheco – State Delegate PBA Local 267